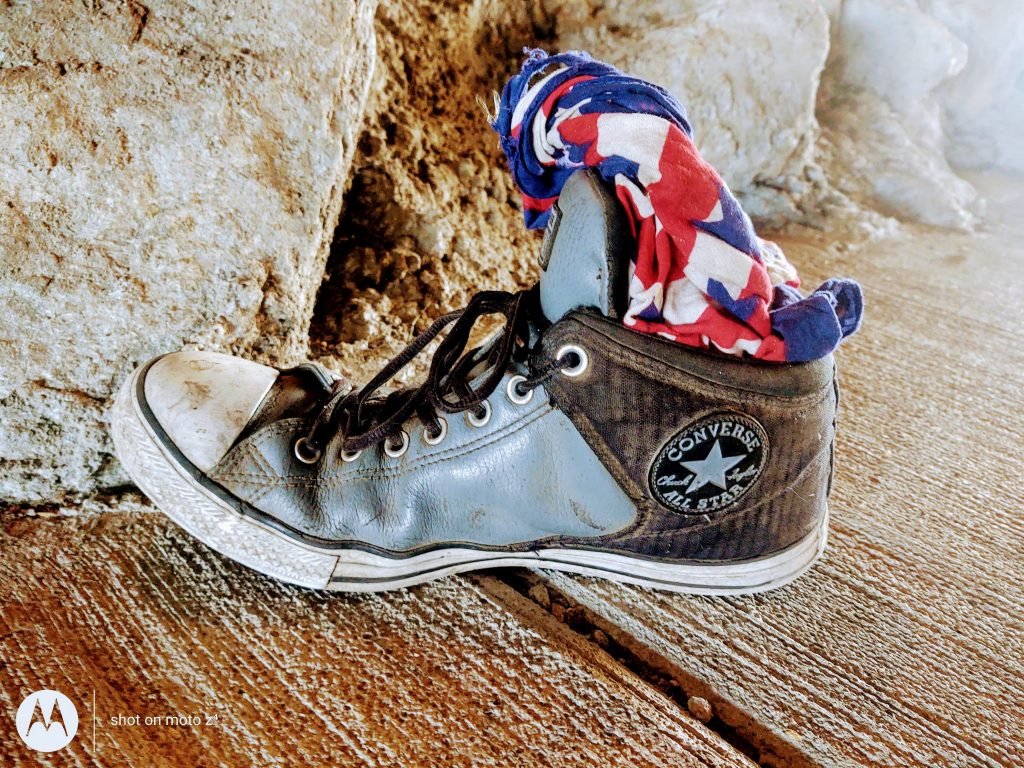 Chuck was alone. Well at least he felt that way. Emotions flooding in from his days as a young shoe being heat seared at around 300 degrees. Alone in the dark surrounded by fire. Knowing something was missing but not able to fully understand what it was. Life was good. Chuck loved being a sneaker. Especially since he wasn't alone. Life can change fast. One moment he was in the dark, snuggled next to his rubber soled lover, and the next he was on the pavement. Where had they gone? Why had the left him? He lost the two things that defined his life—or so he thought.
There was a giant foot that fit perfectly into him. He felt like he was made for that humungous size 11 foot. His purpose was lived out when that giant foot slipped into him and he was on the move. One day, not long of the searing, he was boxed with another. Someone who looked, and even smelled, like him, but was uniquely different. She fit a different foot. He knew this because he watched the giant foot try to put her on his foot. Well, that didn't work! Also, her stitching had been done just a tad differently. He tended to notice the little things. He pondered how much he loved her stitching and the amazing sole she had. He knew the foot brought a design to his life, but that "twin," his pet name for her, amazingly crafted, brought sheer joy. When with her, something deep within changed—a morphing happened within his suede high-tops. He remembered the day "twin" was placed next to him. Instant lightening jolting. Sparks flying as a deep excitement and peace set in. Almost as if she was created by the Universe to go with him! He could feel the solidness of her sole. The softness of the outer layer. As the days went by, they wore in similar ways. Getting wet together. Slipping in the mud together. Getting cleaned together. Always experiencing life in unison.
But this day. Something was different. Chuck was all alone. He took a physical inventory. He had a sole. He was in one piece. He had everything he needed. Wasn't this just like before he had been paired. He wondered; do I need my twin to move? What is really different? He discovered a deep longing to be with her. A life without another seemed to lonely of a place to bare. Chuck sat. Knowing that was what he needed to do. Awaiting the return of his twin, honoring the space between now and then. He pondered what it the Universe wanted him to find a different partner to dance with? Maybe not a twin, like he had grown accustomed to, but another glorious sole who flashed a different energy entirely. Maybe even a different color? Humm. Not a thought he wanted to dwell on, but one he knew he would embrace if needed because his sole told him so.
Chuck sits. Awaiting movement. Honoring the grief, he feels. The agony that seeps through his shoe strings. Feeling as if his sole is being torn in half from being away from his "twin". Whatever the case, he decided to honor this space as to be prepared for when it happens. Honoring for him comes at a high cost. Grief feeling like agony.
Rick Ellsmore
9.30.20
PS. I saw Chuck on 9.28.20, as of 10.1.20, he still sits awaiting what comes next!